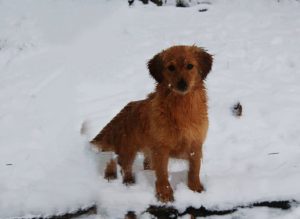 Buttercup
Buttercup is a Multi- generational Mini Golden Retriever she is 50 percent Golden, 25 percent Cavalier Spaniel and 25 percent Mini Poodle. She currently weighs 22 pounds and has a thick fluffy retriever coat.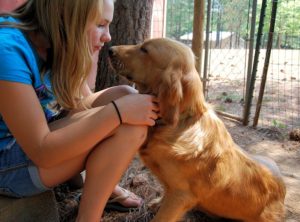 Papaya
Papaya is a purebred AKC Golden Retriever weighing just 60 pounds. Papaya is a mellow girl she is submissive and sweet and eager to please. All of these pups will have flat retriever coats and should range in size from 24 to 44 pounds. After this litter Papaya will be resting until some future date in 2019.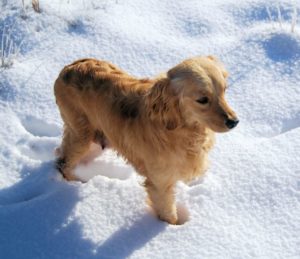 Violet
Violet is an F1b Mini Golden Retriever. She is 75 percent Golden Retriever and 25 percent Cavalier Spaniel. She was the runt in her litter and full grown only weighs 18 pounds even though her sire weighs 67 pounds and her dam weighs 30 pounds. Violet is adorable in every way loves children. She is bred for Multi Generational Mini Golden Retrievers many of which will have low and reduced shedding. Violet is currently due to Mongoose for puppies late March 2019.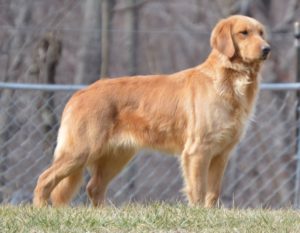 Ariel
Ariel is a traditional AKC Golden Retriever. She weighs 67 pounds.  I retained her tiny 18pound full grown daughter Miss Ruby. Theo is our farm cat and most dedicated puppy socializer he deserves to be on this website.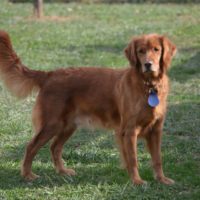 Casey
My foundation female and mother to Orchid, Hibiscus,and Magnolia. Casey is a deep red AKC Golden Retriever who weighs 54 pounds. She does great with our equine therapy program allowing special needs children to crawl on her. If you are fortunate enough to purchase one of her puppies she prefers to sell them herself and meet each puppy buyer.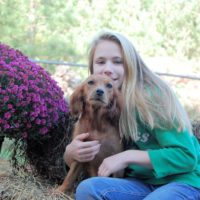 Ruby
Miss Ruby is only 13-15 pounds smaller than both mom and dad. Ruby is an F1 Mini Golden Retriever half Golden Retriever and half Cavalier King Charles Spaniel. We believe many of Ruby's off spring will be larger than Ruby unless she is bred to our smaller unrelated Cavalier King Charles Spaniel. Ruby is due to Chunk mid March 2019 for stunning dark red F2 Mini Goldens.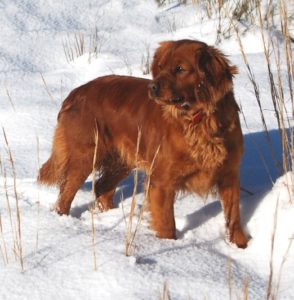 Sweetheart
Sweetheart has but one fault, she is too friendly. She believes petting should occur 23 hours per day. Lucy is Sweetheart's mother and Brady is her father. Sweetheart is an F1 Mini Golden weighing 29 pounds. She also is a doting mother that adores her puppies. We kept one for her; Precious the curliest puppy ever born at Escondido Acres. The second photo shows Sweetheart with her husband Max the father of the current litter.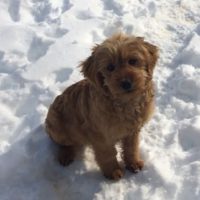 Precious
Precious is our other tiny. She is a finished Mini Golden Retriever also referred to as a "Comfort Service Retriever". She is 50 percent Golden, 25percent Cavalier King Charles Spaniel and 25 percent Mini Poodle. Sweetheart is her mother and Max is her father. Precious was the smallest in the litter and is still under 15 pounds at 18 months old. We hope to breed Precious with Little Brady for a litter of tiny Mini Golden Retriever with a slightly higher percentage of Cavalier Spaniel. Get on the list if you would like a Mini Golden under 20 pounds.
Hibiscus
Hibiscus is our athlete and our brains. Although all Mini Goldens are intelligent do not let those sweet faces fool you. She can clear a six foot fence or make a tunnel all because she wants to be at your side. She is pictured on the left in the photo with her sister Magnolia. Hibbie as we affectionately call her; is a 30 pound F1 generation Mini Golden. Her mother is Casey and father is Brady.
Magnolia
Magnolia is a 27 pound F 1 Mini Golden Retriever with that irresistible face. She is affectionate and gets along with everyone. She is the peacemaker. If you are interested please check back these will be larger 30 to 45 pounds full grown. Pick of the litter female will remain at Escondido Acres. We thank William for the use of his outstanding gentle stud. She is pictured on the right with her sister Hibiscus.
Lemon

Lemon is an F1b meaning she is 75 percent Golden and 25 percent Cavalier. She weighs 38 to 43 pounds and shouldn't go over 40 so that tells you a little about her love of food. Girl after my own heart. She is a beautiful lady that has graced us with a stunning litter ready in Jan of 2020. Comet is her father and Magnolia is her mother.